Talk about diversity  in the digital world as a company called OjuAfrica launches Afro Emoticons aka Emojis of the negroid race 🙂 OjuAfrica is a division of an African mobile manufacturer called Mi-Fone. Mi-Fone is said to be the FIRST AFRICAN Mobile Devices Brand, and has been reinventing the mobile market in Africa since 2008. They believe that it is a necessity, and not a privilege that the people of the African continent have access to education and technology thus the tag line of the company goes:
"Together we can create Aspiration…Within Reach."
More on MiFone at http://www.mi-fone.mobi/
Emoji; is the Japanese term for the ideograms or smileys used mostly in Japanese electronic messages and webpages. These small images are starting to appear more and more outside Japan. Originally meaning pictograph, the word emoji literally means "picture" + "letter". .Wiki
It started off with this  conversation  : What Does Apple Think About The Lack Of Diversity In Emojis?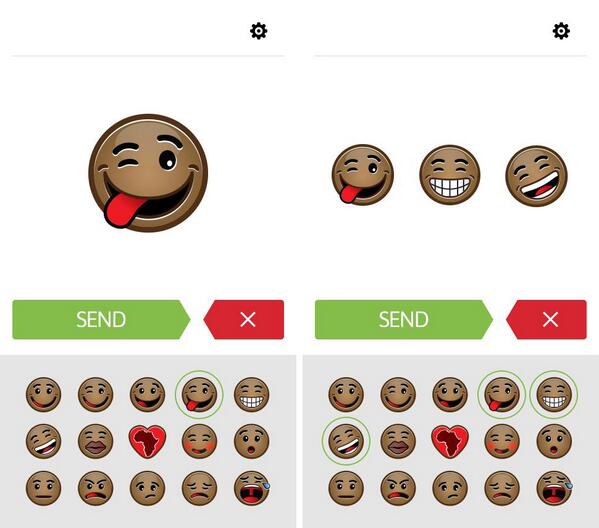 An article by MTV journalist Joey Parker, who flagged the fact that there are no (or barely any) non-white emojis in the basic range within most text-message apps used by Apple, Google, and Microsoft. Parker contacted Apple's CEO Tim Cook about the issue and, remarkably, received a reply. It wasn't from Cook himself but from Katie Cotton, VP of worldwide corporate communications for Apple.- arstechnica.com/
Now we are here. I guess this idea is simile to the evolving case of barbie dolls and little brown girls. Human beings with more melanin will be able to also relate to these smileys and feel more "at home" using them in chat spaces? Feel free to leave a comment, when  you see the original smileys, do you see race?
Take a look at the first set  of the Afro Emoticons by #OJUAfrica  (OJU means "Face" in Yoruba, Nigeria, West Africa). The new black emojis have been designed for Android, but they will also be released on iOS. Search 'Oju Emoticon App' on Google Play. What do you think? 😀
Creative director Eserick Fouché says, "We follow global trends but we are differentiated by our authentic African voice. So as a brand we wanted to do something that only Africa could pull off, something that could become so iconic that it would have the world talking. I believe what we have created will ensure that every African on the planet won't be able to help but love it!" –  wired.co.uk interview
Winking backachtya LOL 😀
Beautifully Dreaming.. Positively Doing..
xoxo
Tosinger