One of the African Designers that I truly admire their work, South African David Tlale represented (as usual), beautifully at the New York Fashion Week with his stunning collection.
His Spring/Summer 15 collection unveiled cohesive looks of affluent prints and patented burgundy-red off set with bold, pure white. In Tlale's words this spring collection aims to "[give]women back their power and [equip] them with a strong and confident sense of allure, without losing their essence and femininity." – (via okayfrica)
David Tlale Presents S/S 15 with Tyson Beckford At Mercedes-Benz NYFW – 
And here are some of my favorite picks below.
About David Tlale
Over the 11 years since Tlale launched his brand, South Africa native David Tlale has showcased his inimitable designs at all the premium fashion week platforms and etched his mark as a favorite on the South African and African fashion landscapes. Renowned for his undeniable knack for showmanship and elaborate designs, Tlale's work is both daring and elegant—a brand that defies convention and a brand that impenitently employs unpredictable use and understanding of fabric, color and texture. David Tlale has taken his work around the world, and partnered with a number of influential brands in South Africa. In 2009, he was awarded Fashion Designer of the year at the Africa Fashion Awards in Johannesburg, and later made his debut at Mercedes-Benz New York Fashion Week with a collection entitled "Cultural Intimacy." It was in early 2011, for the Autumn/Winter Collection at Jo'burg Fashion Week, David Tlale presented his quintessential "Made In The City" Collection in celebration of the 92 years of Nelson Mandela's life, Tlale sent 92 models down the ramp on what was deemed the longest ramp in the history of South African fashion: the Nelson Mandela Bridge in Johannesburg. Tlale since his debut on catwalks, has been a ambassador for the "Change-4-Ever Campaign", an initiative that aims to alleviate poverty in Southern Africa.

David Tlale has enjoyed outstanding exposure on both local and International catwalks, but his label goes beyond just fashion. The proudest moment for Tlale was being The First South African Fashion designer to show case Solo at the Mercedes Benz Fashion week New York in September 2012. For more visit http://www.davidtlale.com/the-brand.html
To connect with David Tlale:
***Speaking of South Africa,  a friend needs your support to sponsor her on her mission to SA via  Dramatic Need. Dramatic Need's core mission is to bring the creative arts to underprivileged children in the poorest parts of South Africa and Rwanda. If you are like me, any thing that has to do with the creative arts, giving back and Africa pulls my heartstrings..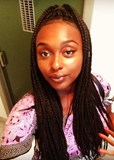 Yasmin says —
I have been chosen as a volunteer to teach drama in rural Free State, South Africa, for a month spanning from October to late November.Dramatic Need is an amazing charity, devoted to enforcing the arts as a form of creative outlet for children in economically deprived African communities… something that I am very passionate about.After graduating last year with a degree in English and Drama, and feeling like my skills weren't being fully utilized/valued here, I figured it'd be a good idea to go somewhere else and make myself useful!
To support her click Yasmin Joseph's Fundraising Platform
Thank you in advance.
Beautifully Dreaming… Positively Doing
Tosinger