Introducing to some and presenting to others two Nigerians that are reaching for the heights, literally.
fReeMaN OsoNugA
Freeman Osonuga is one of Africa's leading voices on poverty alleviation, advocacy and care for people with disabilities, orphans and the less privileged. Freeman is a One Young World Ambassador, one of the 2013 Ten Outstanding Young Persons In Nigeria, and Founder and Executive Director of Heal The World Foundation Nigeria. In  2014, at the Peak of the Ebola epidemic in West Africa, he worked as a volunteer and worked with the African Union team of Ebola responders for 6 months in Sierra Leone.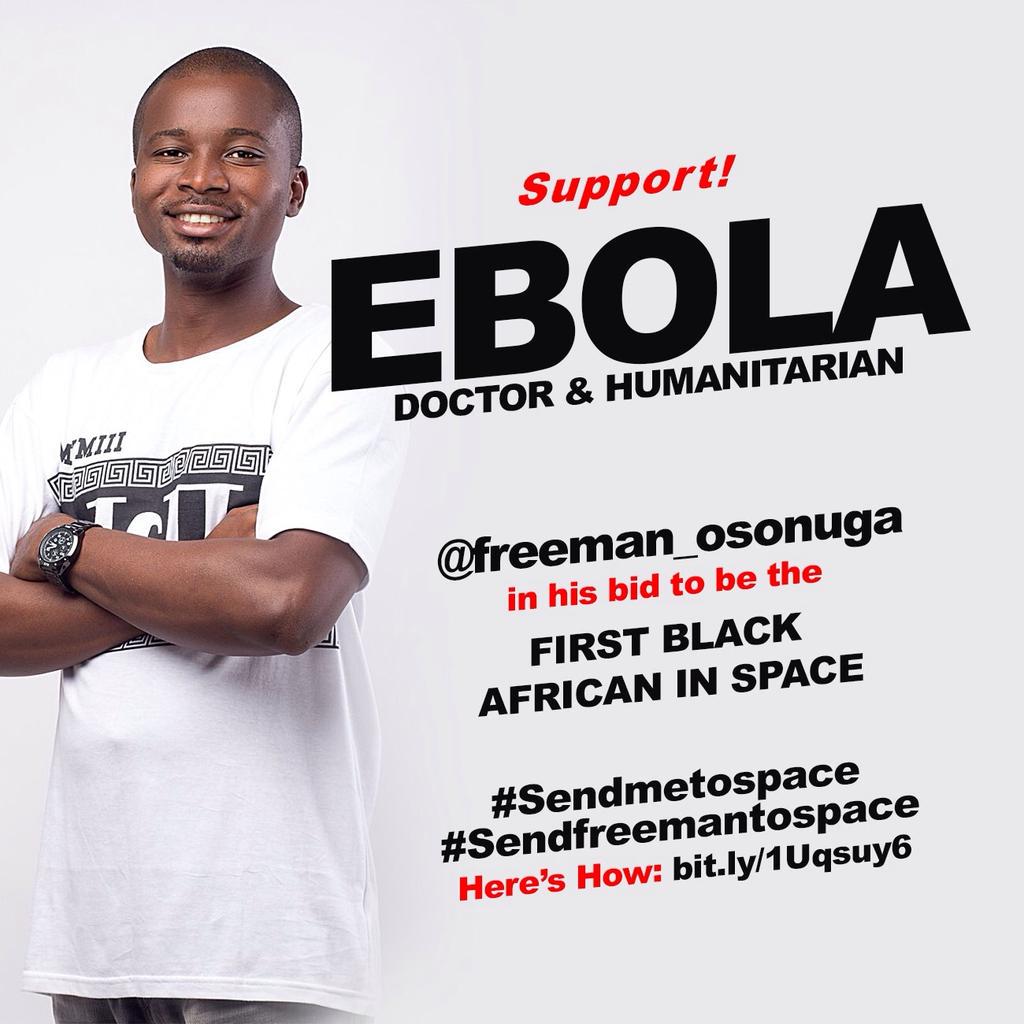 Freeman, a Medicine and Surgery graduate from Olabisi Onabanjo University, has been selected (through the Rising Star programme, which launched at the One Young World Summit 2014 in Dublin) to embark on a once in a lifetime flight to space and also offered a three year management contract. The programme invites both One Young World Ambassadors and outstanding members of the public aged 18-35 to be nominated to take on the trip of a lifetime.
If selected for the program, he will be the first Nigerian and First
black African to fly to space!
Osonuga is a 2015 WIRED Innovation Fellow. He will be speaking live on the London stage at the WIRED 2015 conference in October.
View Freeman's profile here on the Kruger Cowne website and watch video below.
kIMberLy AnyaDike
Kimberly Anyadike is a young pilot who learned to fly from an after school program focused on helping at-risk youth realize dreams — Tomorrow's Aeronautical Museum in Compton, CA.
Inspired by the Tuskeegee Airmen, then 15-year-old (now 21) US based Kimberly Anyadike of Nigerian descent flew a single-engine Cessna cross-country from her hometown of Compton, Calif., to Newport News, Va. Anyadike is said to be the youngest female pilot to complete the journey, which took 13 days.
Born in Los Angeles in 1994, Kimberly Anyadike never remembers a time in her fifteen years she wasn't interested in flying. Her passion for aviation began with a 20-minute demo flight at Tomorrow's Aeronautical Museum, a flight school and youth mentoring center in Compton, CA. Kimberly washed airplanes and did other tasks to earn "museum dollars" that she traded in for flight lessons. Among the mentors available to kids in the program are several Tuskegee Airmen, who Kimberly has been immensely inspired by.
Exposed to a wide range of activities, Kim was a junior lifeguard at Venice Beach for five years, where she also learned how to surf. She attended the Lula Washington Dance Academy, taking ballet, hip-hop and tap dance classes. Kimberly is a youth member at her church where she learned how to read music, and is now learning how to play piano, violin and guitar.
Most recently she has completed college courses at Los Angeles Trade Technical College, the Saturday Science Academy at Charles Drew University and is taking a range of art courses at the Plaza De La Raza. She volunteers to feed the homeless in downtown Los Angeles and is very active in her church, while maintaining her G.P.A Kimberly's career goal is to become a cardio-vascular surgeon with a pilot's license. Like her FB page here
Kimberly Anyadike (born c. 1994) is known as the first Nigerian American teen to fly across the United States. Her Dad is from Nigeria, and Anyadike means (Eye of a Warrior). She flew from Compton, California to Newport News, Virginia in 2009. It took her 13 days to complete the flight The miles flown were 2,342. The plane used was a Cessna C-172. She was accompanied by safety pilot Ronnell Norman, a certified commercial pilot and Major Levi H. Thornhill, a retired U.S. Air Force pilot who at age 87, is a member of the elite Tuskegee Airmen who served during World War II.

Anyadike is from Compton, California. She paid for her flight lesson by working many regular jobs around the compton airport — via wiki
Wishing these two "reach for the skies" trailblazers all the best!
Beautifully Dreaming, Positively Doing
Tosinger
Organically Singing the album is not out, get yours here